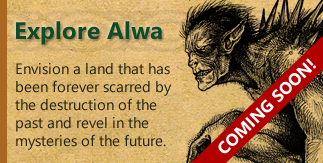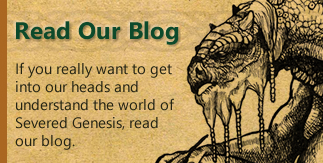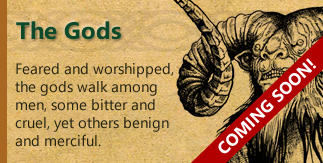 Welcome to Severed Genesis
Envision a land that has been forever scarred by the destruction of the past and revel in the mysteries of the future. Imagine a world filled with depth and intrigue and one where mythical beasts and the gods themselves walk the world of Alwa. Picture a landscape that has been ravaged by the power of the selfish kings and diabolical villains. Tread carefully as horrific creatures stalk the outskirts of civilization and dangerous dungeons lay abandoned with their lost treasures ripe for the taking. Each and every day is an opportunity… an opportunity for glory, riches and adventure.
The Severed Genesis Campaign Setting is a world that is ripe with political machinations and glorious adventures, where myths become reality and legends never die. Join us as we begin our epic journey and keep watching our website for updates.
What's Happening?
Read through our most recent blog articles to keep up-to-date on all the latest happenings with the Severed Genesis Campaign Setting. Comment and provide input to the writers as we craft this epic campaign setting!
Posted by Bob on February 23, 2013
We introduced two groups of players to the Severed Genesis Campaign Setting this past week. We figured that the best way to introduce the setting was with a game, so myself and our friend Hermon decided to tell two different stories. This will give us an opportunity to introduce several new monsters (and…
Posted by admin on February 5, 2013
Tonight, we get to introduce the Severed Genesis Campaign Setting to a group of roleplayers (both experienced and inexperienced) at the Fulton County Public Library in Rochester, Indiana. Our friend, Mike Rogers, is an employee with the library and has actually been a part of Severed Genesis since the…
Posted by admin on February 4, 2013
One common thread shared by all of the gods is that they are trapped on the world of Alwa after the cataclysmic event known as the Severing. Unlike other campaign settings, in Severed Genesis, the gods (and mortals, for that matter) have truly been severed from the outer planes. They have been forced to…
Posted by admin on January 28, 2013
So, it has been awhile since I last posted on the Severed Genesis website. Ironically, my regular job as a web designer has prevented me from creating any content for this site. On the bright side, I've been working with the setting's artist in continuing to create more creatures and amazing landscapes. In…
Posted by Bob on September 11, 2012
It's been forever since I have written a blog post for Severed Genesis, but things have been so busy since this past May. Since that time, the concept of the Elder World has started to take shape. One of the main features of the Elder World has always been what I call "the Edge" ...literally, the edge of the…